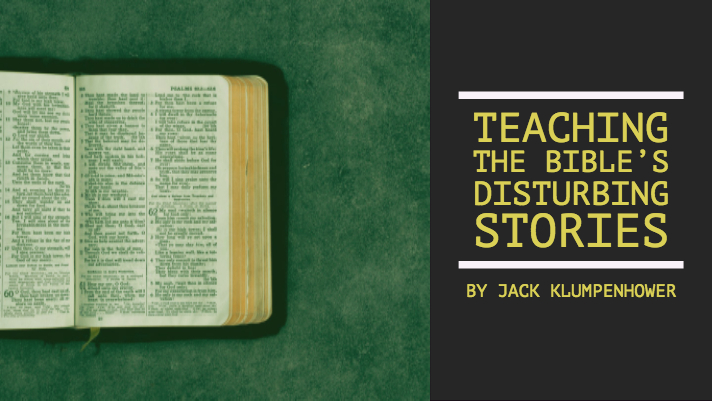 I recently read Jack's book "Show Them Jesus" I so enjoyed it I asked Jack to guest post on my blog about how to teach the parts of the bible that are difficult. I hope you find it as helpful as I did.
Teaching the Bible's Disturbing Stories
I've spent much of the past Sunday school year teaching through the book of Genesis for a class of elementary kids at my church. Just a few weeks into this class, I had a decision to make. The published curriculum I'm using as a rough guide had given me the expected lessons about creation and the sin of Adam and Eve, but it skipped the story that comes next in the Bible—where Cain murders his brother Abel.
I suspect the violent content had something to do with the publisher's decision to skip that story. A bloody family killing does not feel kid-friendly.
But should I teach it anyway? On occasion, I too will decide it's best to spare the youngest children from particularly rough stories or from certain details. I don't enjoy shocking kids or telling them horrific tales. But usually, I'll go ahead and teach most Bible stories—including the gory or sinful parts. And in the case of Cain and Abel, I hardly had to think about it. I knew I wanted to teach that story, and so I did.
During lesson time, I even drew a stick-figure picture of Cain standing over Abel's body. Then I added some red smears for blood pooling on the ground. I was as gentle as I could be about it, soberly warning the kids that it was ugly and sad, but still, I drew that picture. It was important for them to see it.
So why, of all things, would I want kids to see that? I have three main reasons, each of which applies not only to Cain and Abel but also to many other Bible stories.
It's good to teach the Bible the way God has given it. If we poke around the Bible looking to use just the cheery parts, we end up skewing its message. We give kids the idea that the Bible is something like Aesop's fables or after-school cartoons instead of the gritty, soaring, beautifully diverse message from God that it is. We also might miss key themes.
With the Cain and Abel story, I recognized it as part of the Bible's foundational opening pages and the introduction of a critical theme: the contrast between a bad heart mastered by sin and a good heart devoted to God. I didn't want to skip over that. I also noticed that the Bible specifically mentions Abel's blood five times (in four different books). That made the blood a necessary part of my lesson if I was going to be true to the Bible's own emphasis.