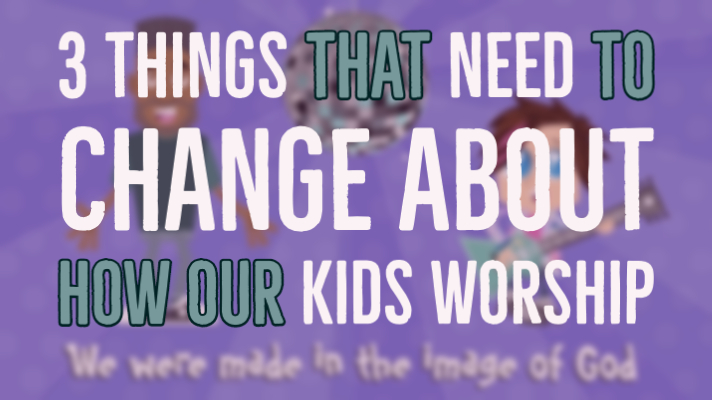 Most of the time when we talk about worship for kids or youth ministry its most often in the context of practical tips. What songs are hot right now? Where can I get videos for this song? Most recently can I use worship songs that have copyright for our online services during COVID-19? What we fail to ask is why we worship and are we worshiping God in the way he desires to be worshiped.
This question of how we should worship is not new. For centuries the church has referred to this question as "the regulative principle it is simply the assertion that we must worship God in the way that he has revealed himself and the way he has commanded us to worship Him in His word. We need to worship God according to Scripture. Our worship needs to be directed by Scripture. The form and the content of our worship needs to be in accord with the Bible, informed by the Bible, and warranted by the Bible. It needs to be founded in the Scriptures. That is an emphasis that is so important today." (via RTS.org)
It seems today the questions that we ask in the arena of worship are more around production value than around the Biblical basis for the songs we sing. We need to think deeper about how our songs are forming our kids. We need to think about how our songs are painting a picture of who God is and what he has done.
Yancy, recently released a new worship album aimed at pre-school and early elementary it's called Ready, Set, Go! It's fantastic. Yancy's passion for the local church and for worship is so evident in everything she does. I love that her focus is always faithful over famous. I sat down with Yancy Richmond to talk about three things in kids' ministry worship that need to change.
Engagement Not Just Aerobics
The first thing that needs to change in kids is we have to engage kids and not just lead them in aerobics. It seems in the last six or seven years that actions in kids ministry worship have gone from something helpful to being almost the totality of the worship experience. We seem to no longer judge our worship by transformed hearts but by how many people are moving at the same time. We are all guilty of this one because it's easier to measure how many kids are jumping, it's much more difficult to measure how many hearts are being transformed.
I think it gives kidmin leaders a false sense of participation. To be able to step inside the room and see it bouncing up and down and think "Yeah we are winning at worship." Motions have a time and place but somewhere along the way, we started to shove motions in every part of every single song that we do instead of when it actually makes sense and when it actually enhances that song.

Yancy
We rightly want our kids to engage but what I've found is that when kids do dance moves they don't sing. When kids don't sing they don't memorize the words of the song that when written well will be truths from God's word that will be forever lodged in Kids Hearts. It seems that we have lost the art of teaching our kids to sing a heart song in exchange for Tik Tock.