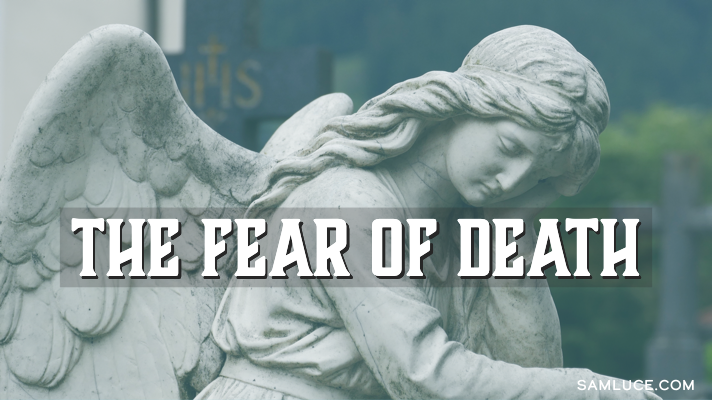 Fourteen years ago today, I was much younger and much more naive about life and God's ways. I thought if I did the right thing, good things would happen every time. That if I said the right things, people would feel comfort and joy every time. I found out that God doesn't work the way I think he should work. God is not tame, but he is good. I found out that the God we serve is not safe. All my life to that point, I thought he was safe, and the day I realized he was not safe was also the day I began to question if he was even good.
How I have come to know God over the past decade and a half has changed the way I see him, the way I trust Him, and the way I see everything because of him. It is not an overstatement to say I was blind, but now I see. That day fourteen years ago, led to a chain of events that made me question the goodness of God; it led me to struggle with anxiety as a result of an overwhelming fear of dying.
It was nearly two years of working through the implications of me thinking that if I pray enough, give enough and serve enough, good things will come from that as my payment from God because of my goodness. I had grown up in church my whole life, and I thought the gospel was for sinners, not for me. I thought God was in my debt because I hadn't done anything wrong. I was angry fourteen years ago because I didn't think God heard the prayers of a sweet family suffering far more than I ever had. I was angry because I prayed for a boy filled with more faith than I had ever had. He didn't rise. I was angry with God because he owed me and wasn't coming through when I was calling in my favors, eared through years and years of good behavior.
I was a Pharisee. People look at Pharisees in the Bible and say they are religious zealots who don't love God they love themselves. That isn't so. They were some of the most outwardly perfect people you could ever imagine. A pattern of good behavior marked their understanding of life. They encountered Jesus, and he was not the Messiah they imagined. They killed Jesus because he was not and could not have been the God they had long-awaited. I was one of those. I had an idea of God that he always answered my prayers in the way I prayed them, He always did what I thought was right, that he is more pleased with me because of my goodness. I knew God but not his ways.
It changed one day reading The Jesus Storybook Bible to one of my babies. I read how a woman who was a sinner came to Jesus and took the most important and expensive thing; she had a jar of perfume she broke it, and poured it on the feet of Jesus. The religious people thought this was a waste. It smelled like the lilies in the summer field. It wasn't a waste. They were mad at God's kindness to this sinner. They thought Jesus should not be kind to her. "That woman is a sinner!" they grumbled. "We're the good ones," God spoke to me as I was reading that to my child and said, that's you. I knew God but not the ways of God.