One of the questions I get asked often is "What Bible should I buy my kids?" It's a great question because when I was a kid, there was the KJV and The Picture Bible that was pretty much it. Now there are more Bible versions and types of Bibles than there are flavors at Baskin Robins.
The problem is finding Bibles for your kids that
aren't too far below them or to advance for them.
One of the jobs we have as parents is helping our kids learn the discipline of reading their Bibles. We live in a culture that is growing more skeptical and even hostile towards the Bible and it's claims. We need to be more intentional about giving our kids a Biblical worldview but even more than that we must do our best to help them find the world of God true and beautiful.
Here are the Bibles I recommend by age.
Ages 1-3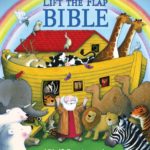 Flap Bible by Sally Lloyd-Jones – Think Jesus Story Book Bible for 2 year-olds. "The perfect introduction to timeless stories from the old and new testaments the
Lift-the-Flap Bible
combines breathtaking illustrations with delightful text. With flaps to open on every page (and surprises to find underneath), children join in the thrill of discovery as they take part in each of the stories from the Old and New Testaments. Through the pages of this stunning Bible, the greatest story ever told is traced and the wonderful news that God loves us is brought home to the heart of every child."
Ages 4-8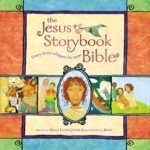 Jesus Story Book Bible by Sally Lloyd-Jones –
This book still moves me even after I have read the cover off four copies and am now on my fifth. If your kids are 4-8 years old this Bible is a must. "
The Jesus Storybook Bible
tells the Story beneath all the stories in the Bible. At the center of the Story is a baby, the child upon whom everything will depend. Every story whispers his name. From Noah to Moses to the great King David—every story points to him. He is like the missing piece in a puzzle—the piece that makes all the other pieces fit together. From the Old Testament through the New Testament, as the Story unfolds, children will pick up the clues and piece together the puzzle. A Bible like no other, The Jesus Storybook Bible invites children to join in the greatest of all adventures, to discover for themselves that Jesus is at the center of God's great story of salvation—and at the center of their Story too."
Ages 7-11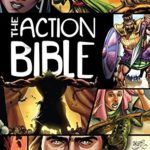 The Action Bible by David C Cook
– My kids love this Bible it is great because it tells most of the stories of the bible in a very visually appealing way. It is a great segway Bible for kids bridging them from Story Based Bibles into Text Based Bibles. "Here's the most complete picture Bible ever! And it features a captivating, up-to-date artwork style—making it the perfect Bible for today's visually focused culture.
The Action Bible
presents 215 fast-paced narratives in chronological order, making it easier to follow the Bible's historical flow—and reinforcing the build-up to its thrilling climax. The stories in
The Action Bible
communicate clearly and forcefully to contemporary readers. This compelling blend of clear writing plus dramatic images offers an appeal that crosses all age boundaries. Brazilian artist Sergio Cariello has created attention-holding illustrations marked by rich coloring, dramatic shading and lighting, bold and energetic designs, and emotionally charged figures. Let this epic rendition draw you into all the excitement of the world's most awesome story."
10+ Girl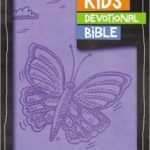 NirV Devotional Bible by Zondervan
– I like this Bible for older girls because of the readability of the translation and the fact that it has a year worth of devotions built in. "Complete with a year's worth of devotions, the Kids' Devotional Bible, NIrV will help children develop a habit they'll want to keep. Engaging weekday devotions, fun weekend activities, interesting illustrations, and a dictionary make this a Bible they'll want to read and apply to their lives. It includes the complete New International Reader's Version (NIrV)—the stepping stone to the NIV—making it easier for young readers to read and understand."
10+ Boy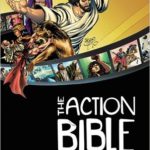 The Action Study Bible (ESV)
– While the ESV is my favorite translation because of the way it is translated it can be difficult for kids to read. This Bible is still  a great bridge from The Action Bible into a full-text Study Bible.
"See God in action in this illustrated study Bible for kids and teens!
What do you get when you combine the trusted English Standard Version with illustrations from Marvel comic artist Sergio Cariello? An amazing study Bible that brings God's Word to life for kids and teens"
10+ boy or girl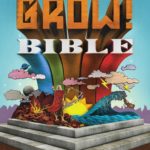 ESV Grow Bible by Crossway – Again ESV isn't my first pick for a kids bible. What I like about this Bible is that even though the translation may be tough the helps sections are really good. "The ESV Grow! Bible is designed specifically to reach children ages 8–12 for the time between when they use a children's Bible and a more advanced Bible. Coupling the full ESV text with many helpful features, this is a Bible that young students can call their own.The ESV Grow! Bible comes with all-new features to help children learn and understand God's Word. Nearly every other page features a "W Question", boxes answering the who, what, where, when, or why of a text—basic questions a child might have while reading. Introductions to each Bible book, charts, and maps help young readers understand the themes, characters, and context of Scripture. 45 "Cross Connections" explain how certain Bible passages point to Christ and 90 "4U" sections explain and apply texts to the child's life. In addition, articles about Jesus and the teachings of the Christian faith help children understand important theological concepts."
Teen+
Zondervan Study Bible Personal Size
– This Bible is perfect for the Teen to College age crowd. The editor of this Study Bible is a solid Theologian and the NIV is very readable yet still accurate. "The
NIV Zondervan Study Bible
, featuring Dr. D. A. Carson as general editor, is built on the truth of Scripture and centered on the gospel message. An ambitious and comprehensive undertaking, Dr. Carson, with committee members Dr. T. Desmond Alexander, Dr. Richard S. Hess, Dr. Douglas J. Moo, and Dr. Andrew David Naselli, along with a team of over 60 contributors from a wide range of evangelical denominations and perspectives, crafted all-new study notes and other study tools to present a biblical theology of God's special revelation in the Scriptures. To further aid the readers' understanding of the Bible, also included are full-color maps, charts, photos and diagrams. In addition, a single-column setting of the Bible text provides maximum readability."
If you have a Bible that you would like to recommend place the link to it in the comments section.