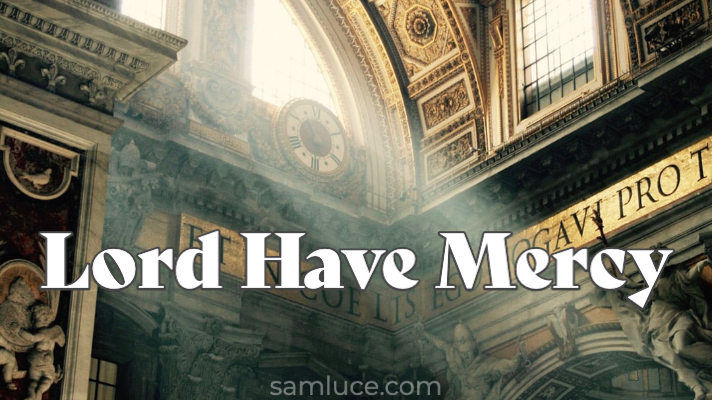 The Latin phrase Kyrie Eleison is translated to "Lord have mercy" in English. The power and need for this prayer from the church has become more valuable and more needed than ever. When we are at our weakest, we are most aware of our need for mercy. In America, we have deified love. We say that God is love, and that is true, but how we mean it is not. I think describing God's love in terms of his mercy is a much better way to go.
Love for us holds a romantic notion in the Rick Astley sense we want a God who will never do anything to us that we don't like.
Never gonna let you down

Never gonna run around and desert you

Never gonna make you cry

Never gonna say goodbye

Never gonna tell a lie and hurt you

Rick Astley
When we think of God in terms of how we desire or experience love. We fail to understand the justice, the holiness of God that is seen in his love for us experienced in mercy. I love Ephesians 2. In it, Paul describes us and our sin that we are dead in our sins, following the prince of the power of the air. In his description of us, he says we are both guilty and lost. He then pivots and describes who God is. God is rich in mercy.
4 But God, being rich in mercy, because of the great love with which he loved us, 5 even when we were dead in our trespasses, made us alive together with Christ—by grace, you have been saved—

Ephesians 2:4-5
Mercy presupposes guilt and salvation. Love presupposes our experience with love. What we want is love. What we need is mercy. God comes to us in mercy. But again, we misunderstand what mercy looks like. Two of the greatest authors of the 21st century didn't. Tolkien and Lewis both understood God's mercy. In a moving blog post at Desiring God, the author describes Tolkien's understanding of mercy.
"In October of 1958, Tolkien wrote a letter to a Miss Beare, an inquiring reader who had a host of peculiar and specific questions about "The Lord of the Rings." In a follow-up letter (actually just a draft of a letter that was never sent), Tolkien pens the paragraph that so deeply impacting. Writing about the immortality of Elves and mortality of Men (a mortality the Elves coveted), Tolkien says,
A divine "punishment" is also a divine "gift," if accepted, since its object is ultimate blessing, and the supreme inventiveness of the Creator will make "punishments" (that is, changes of design) produce a good not otherwise to be attained. (The Letters of J.R.R. Tolkien, 286)
Therefore, a man who is subject to death and suffering and loss (like Tolkien and each of us) is to be envied for the precious good we receive because of the "punishments" we receive (the consequences of sin, the awful "changes" to the original design brought about by the fall). Tolkien goes on to say, "A 'mortal' man has probably (an Elf would say) a higher if unrevealed destiny than a longeval one" — that is, than an Elf who never dies.
The loss of a father, or mother, or brother, or child, then, as much as we would never want it, or ask for it, can be a gift, if accepted, says Tolkien because it can bring about a greater good, an ultimate blessing we would not have enjoyed without having to feel the pain and heartache."
Mercy is the love of God acting in concert with his justice. Mercy is the love of God in concert with the other attributes of God. When we ask God for mercy, we are asking him to intervene in our world and in our lives, but we are also asking him to transform our hearts to see punishments as gifts.
Tolkien's college C.S. Lewis shared his friend's understanding of mercy. One of Lewis' friends wrote to Lewis about the passing of his wife. Lewis's response was one that had been marked by his own particular need for God's mercy.
One way or another, the thing had to die. Perpetual spring-time is not allowed. You were not cutting the wood of life according to the grain. There are various possible ways in what it could have died tho' both the parties went on living. You have been treated with a severe mercy. You have been brought to see (how true & how v(ery) frequent this is!) that you were jealous of God.

Vanauken, Sheldon. A Severe Mercy (p. 210). HarperOne. Kindle Edition.
Lewis reminded him of the reality of death and the mercy of God, even when that mercy was severe. Lewis was telling his friend that every relationship must come to an end. There are many ways in which that end could have come, but Lewis reminded his friend Sheldon of the mercy of God towards him. That even though his wife was taken, God had not left him. In fact, Sheldon came to saving faith through the death of his wife. His loss was a severe mercy.