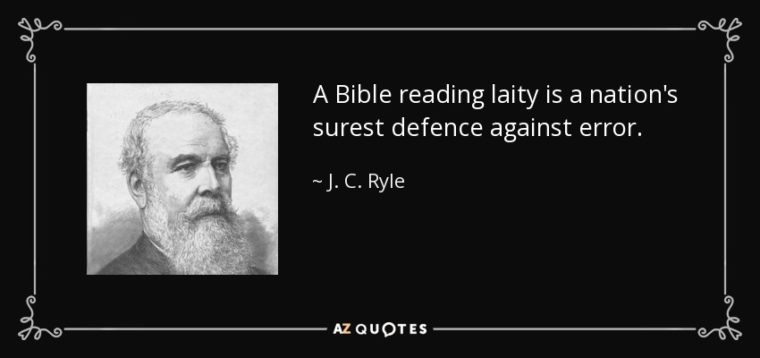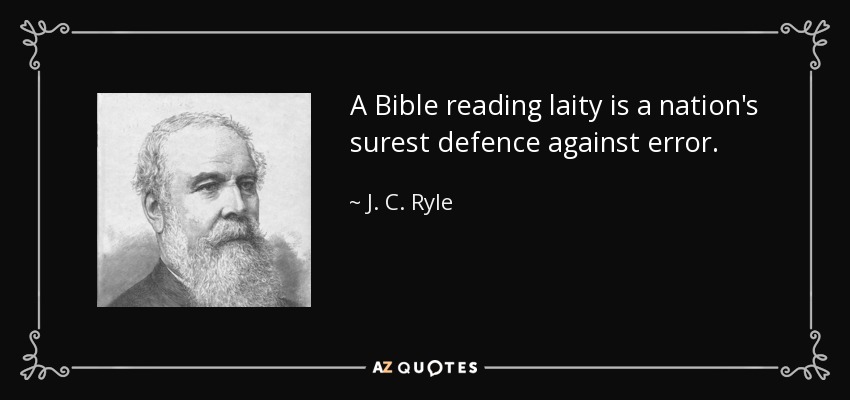 One of the most insightful and practical preacher theologians I have ever read is J.C. Ryle his insights are deep his love for Christ is palpable. My only regreat in reading all the things he has written is that I didn't find him when I was younger. Of all past theologians, I am most confident that J.C. Ryle would have had a blog his passion for truth and his ability to speak the truth plainly would have demanded it. I pray that you are encouraged by his practical insights and deep love for Christ as I have been over the years.
1. Begin reading your Bible this very day. The way to do a thing is to do it; and the way to read the Bible is actually to read it! It is not merely meaning, or wishing, or resolving, or intending, or thinking about it , which will advance you one step. You must positively read. There is no royal road in this matter, any more than in the matter of prayer. If you cannot read yourself, you must persuade somebody else to read it to you. But one way or another, through eyes or ears, the words of Scripture must actually pass before your mind.
2. Read the Bible with an earnest desire to understand it. Do not think for a moment, that the great object is to turn over a certain quantity of printed paper, and that it matters nothing whether you understand it or not. Some ignorant people seem to imagine, that all is done if they advance so many chapters every day, though they may not have a notion what they are all about, and only know that they have pushed on their bookmark ahead so many pages. This is turning Bible reading into a mere ritual form. Settle it down in your mind as a general principle, that a Bible not understood is a Bible that does no good! Say to yourself often as you read, "What is this all about?" Dig for the meaning like a man digging for gold.
3. Read the Bible with child-like faith and humility.
Open your heart as you open God's book, and say, "Speak, Lord, for your servant is listening!" Resolve to believe implicitly whatever you find there, however much it may run counter to your own desires and prejudices. Resolve to receive heartily every statement of truth, whether you like it or not. Beware of that miserable habit into which some readers of the Bible fall, they receive some doctrines because they like them; and they reject others because they are condemning to themselves, or to some relation, or friend. At this rate, the Bible is useless! Are we to be judges of what ought to be in God's Word? Do we know better than God? Settle it down in your mind that you will receive all and believe all, and that what you cannot understand, you will take on trust. Remember, when you pray that you are speaking to God, and God hears you. But, remember, when you read Scripture that God is speaking to you, and you are not to "dictate," but to listen!
4. Read the Bible in a spirit of obedience and self-application.
Sit down to the study of it with a daily determination that you will live by its rules, rest on its statements, and act on its commands. Consider, as you travel through every chapter, "How does this affect my thinking and daily conduct? What does this teach me?" It is poor work to read the Bible from mere curiosity, and for speculative purposes in order to fill your head and store your mind with mere opinions; while you do not allow the book to influence your heart and life. That Bible is read best which is practiced most!