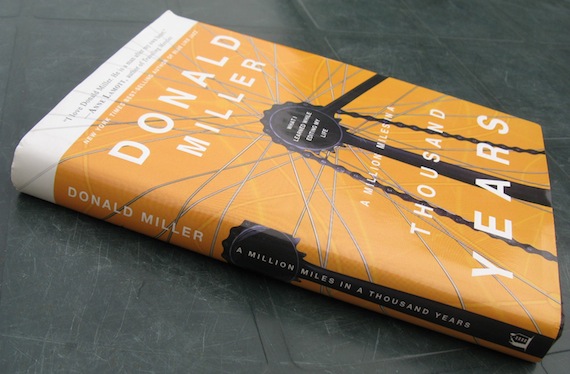 Just finished Donald Miller's book A Million Miles in a Thousand Years. What a powerful book! I haven't read a book like it…..maybe ever. I was moved by Miller's writing style as well as his content. I the only other book I remember crying while reading is No Compromise the Keith Green story.
Here are the big take aways for me from Millers book:

A character is someone who wants something and overcomes great conflict to get it.

If you want to be proud of your story when the credits roll you need to be intentional about creating a story that is worth telling.

In every good story the characters are very clear about what it is they want and don't want.

As a parent it is your job to create a compelling story that your kids will enter into. When you teach your kids to live a compelling story it will effect the choices they make in every area of their lives.

If a story doesn't have a negative turn, it's not an interesting story.

The ambitions we have will become the stories we live.
This book, more than any book I have ever read, has made me think about being intentional about living a life that makes sense. I think that through all of our great modern conveniences we need to remember the things that matter most. In the end those things are relationships. This may sound a bit weird, but while I was reading this book I felt like I was at a funeral, only no one was dead. Every time I go to a funeral I hear a persons life summed up in sound bites and small stories. I always think, "What do I want my sound bites and stories to be?" The best funerals I have ever been to are ones where the person who died lived for others. This book made me think about those things: More than money and comfort and safety, what do I want to leave my kids? While they are small and I am helping shape who they are, what story am I creating that they can engage in?
As a result of reading this book I am going to do some things differently. I think my story so far has been a choose your own adventure, or a Mad Libs. I want my life to look more like an epic novel or a well crafted biography. If you are a human being you need to read this book. It will profoundly challenge how you live your life, I promise you.
In fact go right now and buy it. Here's the link A Million Miles in a Thousand Years.