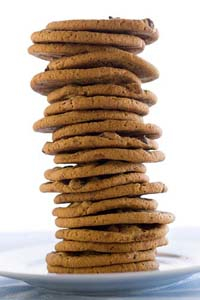 If you need to catch up:
The Introduction
Chapter One
Chapter 2: Just because it's there you don't have to eat it.
Another rule I live by that has served me well so far in life is do not eat it just because it's there.
Scenario – You go to a friends house they bring out a big plate of cookies, everyone has one cookie,fine. There are two cookies left they sit on the plate they taunt you. You feel compelled as either a good guest or a lover of cookies to eat the remaining cookies. DO NOT do this.
Scenario – You go to the movies and get a bucket of popcorn (I'll address the buying of movie popcorn and candy goodness later) roughly the size of a two year old human. You start eating you family has all reached their limit and have stopped but you paid 25.99 and are going to get your moneys worth. You eat the popcorn just because it's there. Never do this.
Scenario – Any time you eat at the house of any Italian BEWARE they are skilled in the art of overfeeding their guests. I know I married into a family that are amazing cooks but also try to overfeed every person who walks through their doors.
Say no to food that is extra and above. Eat till you are satisfied and not full.
If food is there taunting you it is not your responsibility. Do not eat it and you will be one step closer to living a thin man's life.