One of the things you have to do as a parent is to keep your kids in an age-appropriate Bible. For them to love the Word of God you need to give them:
A Bible they understand.
A Bible they can learn the discipline of reading alone
A Bible that is comprehensive enough to paint a picture of the grand narrative of Scripture.
My favorite Bible for kids 3-6 is the Jesus Storybook Bible. But what next? My friends at David C. Cook have many options they are the go-to Bibles for our house when our kids grow out of the Jesus Storybook Bible. They have three options for kids 5-13 that do a fantastic job of visually illustrating the Bible without sacrificing truth.
T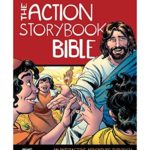 he Action Storybook Bible invites families with children ages 8 and under to explore God's redemptive story together. From the sleek and amazing creatures God created at the beginning of the world to the powerful kings who reigned over ancient Israel to Jesus's gift of eternal life for you and your family—God has a beautiful and exciting plan for the world. Where do you fit into that plan? How are the truths found in God's Word reflected in your life?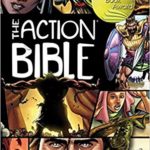 The Action Bible
 presents 215 fast-paced narratives in chronological order, making it easier to follow the Bible's historical flow—and reinforcing the build-up to its thrilling climax. The stories in 
The Action Bible
 communicate clearly and forcefully to contemporary readers. This compelling blend of clear writing plus dramatic images offers an appeal that crosses all age boundaries. Brazilian artist Sergio Cariello has created attention-holding illustrations marked by rich coloring, dramatic shading and lighting, bold and energetic designs, and emotionally charged figures. Let this epic rendition draw you into all the excitement of the world's most awesome story.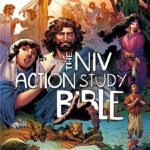 The NIV Action Study Bible
 helps preteens build a strong foundation of faith to last a lifetime. For fans of 
The Action Bible
® who want to go beyond the pictures and deeper into God's redemptive story, 
The NIV Action Study Bible
 is a full-text study Bible that takes preteens (ages 9 and up) further into the heart of God's Word and connects His timeless truth to their lives today.
The Action Bible has introduced millions of kids to the stories in the Bible with its dramatic comic-book-style illustrations. Now they can go deeper with The NIV Action Study Bible. Designed to encourage a stronger connection with God, this essential study Bible includes the complete NIVÒ translation and brings preteens into the action with these features:
What About This? Insights to tough questions about faith
Unlock It! Who did what, when, where … and why it matters
Guess It! Person, place, or thing? Guessing fun with five clues
Find It! A distinct icon that appears whenever a story is included in The Action Bible
Activate Reflection on Bible themes and how they apply to life today
Ancient Archives Cultural history of ancient times—what were clothes, houses, weapons, food, celebrations, and traditions like?
Experience the Drama Comic book artist Sergio Cariello's dramatic illustrations capture the imagination and transport readers to another time. Forty full-color illustrated pages throughout the Bible and over two hundred in-text black and white illustrations. Plus book introductions, maps, a dictionary, concordance, and more.
What I love about the people at David C. Cook is their desire to tell all the stories of the Bible to kids. They don't leave out the problematic passages but rather present them in a biblically faithful age-appropriate way. There is a philosophy in the kid's ministry world that says all the Bible is not appropriate for kids. I disagree. All of the Bible is appropriate for kids and yet 
HOW you teach them those difficult passages matters
. The folks at Cook have a passion for the gospel and for kids understanding and living the Bible. If you have a child between the years of 7 and 13, please head over to Amazon and pick up an appropriate version of the Action Bible for you kids today.