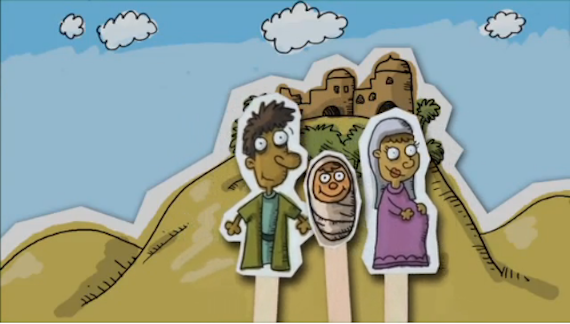 I still remember the first time I saw Vegetables talk. It was years ago Phil Vischer first brought us Bible stories told through the creative lens of household vegetables. It was great it had something for the kids and parents. He was able to capture the imagination of parents and kids at the same time. Vischers new project is a series called What's in the Bible? Where he uses puppets (done very well I might add) to explain the bible in a fun, funny and informative way.
The What's in the Bible team have done something that is unique and lacking frankly they have taken on the topic of Christmas in a way that helps kids, kids pastors and parents know what Christmas is all about. They tackle topics like "Why December 25th" "What do we do with Santa" "What is Hanukkah" "What's the true meaning of Christmas"
I would like to take a few minutes to talk about how to communicate the true meaning of Christmas to kids. We as parents and kids pastors are up against a PR machine like nothing the world has ever seen. It's the bombardment of commercialism. Am I anti-capitalist? No. Does "The Christmas Creep" exist? Yes and I am not talking about some weird elf. Every year decorations go up sooner, toy catalogs arrive earlier than ever. This year at our local Wal-mart Christmas stuff was going up on October 29th.
The more Christmas is about all that other stuff the more we lose focus on what matters most in our lives and in our ministries helping our kids understand that Christmas is when we Celebrate the birth of Jesus. When we rejoice with heaven because the Jesus came to earth to rescue you and me. Christmas offers us the most unique opportunity for us to take the story of the gospel and explain it to kids in a way they understand. The birth of a baby. Kids love babies and what they love more than babies is birthday parties. We celebrate the birth of Jesus who was more than a baby he was God come to earth to rescue all of humanity to fix our broken world. I love christmas.
Here is a short clip of the christmas story that you would show in your children's ministry "What's the true meaning of Christmas"
Here is what I would do for our volunteers –  
1. Make sure that you reinforce to kids that this is not some cute story in a book it really happened. – Using a metaphor of a birthday party works great for kids they totally get parties. They past couple of years we have done a happy birthday Jesus party it helps give a visual metaphor about why we celebrate Christmas
2. Make sure you bring everything back to Jesus. Gifts are great but Christmas is about the gift God gave us his one and only son Jesus. He sent Jesus because we all mess up and we all need a savior.
3. Make sure you let the kids know that God went out of His way to share His Good news with us we need to go out of our way to share it with others. Tell the kids to share with others the news that Jesus loves them and come to earth to, rescue and forgive them.
To Parents –
1. Leverage Christmas to teach your kids how to give. God his ONLY son, because of that amazing gift we can give to others the best of what we have as well.
2. Teach kids Christmas is about Jesus not Santa and most of all not them. We live in such a child-centric culture if we want our kids to make a difference they need to see their need for a savior at a young age. For them to see how amazing the gift God gave us in Jesus they need to see that humanity without Christ in the center is lost, broken and sad.
3. Have fun. Make traditions but be intentional about reading, telling and living the christmas story.
The fine people at "What's in the Bible" have offered to give away a free copy of their curriculum to one of my lovely and handsome readers. If you would like to win a free copy enter below. I will pick a winner next monday.