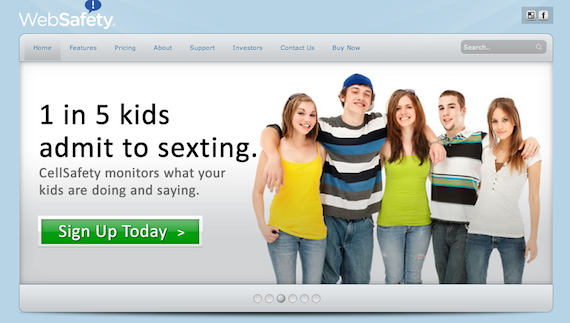 My last post was about keeping kids safe online but dealt more with computer based safety. The web is moving more and more towards mobile devices every year. From ipods to nintendo dsi's, when you hand your child an internet enabled device without proper boundaries you are foolish.
52% of nine year olds and 95% of 15 year olds have a mobile phone
By 2020 most of us will connect to the internet via our mobile devices
Mobile internet Tips for parents
Create a Parent / Child Acceptable Use Contract
Phones remain in kitchen at night to charge
Review phone logs at random, look for gaps in time
Get a paper bill and review the numbers called and texts sent
Get a web filter for your child's mobile device.
Have family rules for daily, monthly and yearly mobile free times.
Have a zero tolerance policy for texting and driving.
Here are a couple of mobile software sites you need to take a look at.
What makes websafety unique?
Message Monitoring
You will be notified when there is a dangerous message including sexting, pedophilia, cyber-bullying, suicide, drug, or gun talk.
Virtual Fence
Setup unlimited virtual fences and be notified when your child enters or leaves these perimeters. Perfect for working parents with "latch-key kids."
No Texting and Driving
Revolutionary, patent-pending technology 
stops texting while driving
; passengers can ask parents for permission! Easy to turn off and back on remotely.

Speed Alert
If your child goes over the set speed limit you will be notified instantly.
No Texting Zones
Block text messaging while in certain pre-defined zones, such as at school, in church or at work.
Location History
View recent history of where your child has been.
Contact Lists
Setup safe numbers for family and close friends, alternatively add numbers to the banned list.
Porn Filter
Stop pornography from being viewed on the phone's internet browser.
If my kids were old enough to be cell phone users this would be a no brainer.
Another site that offers parents monitoring software is Mobile Spy.
Screen SMS messages
Records every SMS message sent or received.
GPS tracking
Tracks GPS position at any interval you select
Call monitoring
Logs all inbound and outbound phone calls.
Photo and video monitoring
Records photos and videos taken by the phone.
One of the push backs many parents and EVERY kid will have is this what about privacy. My kids will not have any privacy there are just to many dangers out there with mobile technology. If my kids get upset over monitoring software on their phone I'll remind them they are lucky they have a door to their room. Parents if your kid has a cell phone don't trust them, protect them.
 Here is a couple of other links to mobile safety software.