I have been trying over the past few months to come up with resources that can help our parents be more connected to what we do on Sunday and enable parents to connect with their kids during the week.
What I have tried that hasn't worked so well in our church culture:
1. Parent Blog –
2. Parent Twitter account –
3. Handouts on Sunday –
I am very excited to be trying out a couple new ideas next month.
1. One monthly Godtime card vs a weekly Godtime card 252 basics provides – I got this idea from Kendra (BTW she has one of my best kids ministry blogs on the web) I tweaked it a bit for us. I added scripture memory and a place for parents to sign off they they did this with their kids so their kids can in turn get points to our Uptown store. I also changed the icons a bit.
The reason i like this is because I believe less is more. I think sometimes parents are overwhelmed by amount of handouts so my thought is if we give them 1 handout a month that is more colorful and has a built in incentive for the kids may help.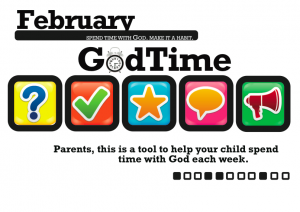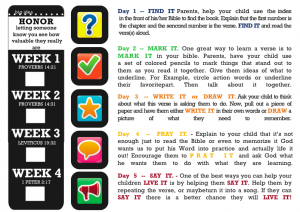 GODTIME_POSTCARD FRONT GODTIME_POSTCARD_BACK
2. I am going to make a CD where I explain what the kids learn each week in Uptown and have some basic applications step parents can take to help their kids walk out what they learned that week.
This idea came from a volunteer and I think it's a great one. It is cheap and should be effective because it's more than a paper that parents can listen to while shuttling your kids all over the place.