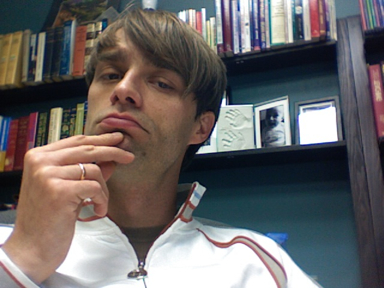 Maybe I should make Thursdays random thought day, like Friday is YouTube Friday. We shall see.
Thought last nights debate was better than the first two. Entertainment value was way up. Loved the verbal jostling.
Found this great site www.stickystreet.com We are going to be using them for our bible bucks. I changed my strategy from tokens to giving each kid a credit card. I will blog about this more. But for now very excited.
Very excited to see the Red Sox lose tonight.
Thinking about buying the Heros of Mega city next. Has anyone done this one yet?
I feel like eating a chicken roll and a double-shot
I love fall and hate winter
I took my picture in front of books so I would look smarter.
Why is chocolate and peanut butter so good?
I am reading "To own a dragon" and "How starbucks saved my life" about to read "it" any suggestions on a good read?