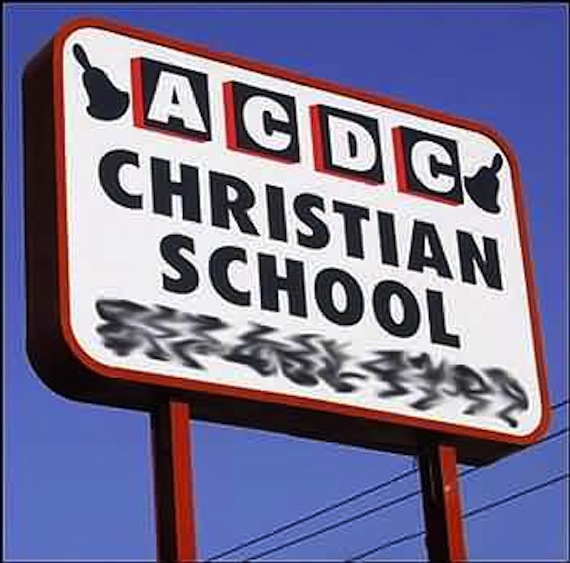 Here are my reasons why you shouldn't send your kids to Christian school.
1. Price – Let's face it. Money makes a difference. I don't begrudge Christian Schools charging what they charge because they get no funds from the Government. It just makes it more difficult to pull off. It is hard enough to pay school taxes as a land owner but to pay for school twice in this economy is a sacrifice for sure. If the Government would do a voucher system in my opinion it would benefit both Christian and Public schools for different reasons and the ultimate winner would be our kids. (Side rant – many schools are crunched for money let anyone in as a result the crazy kid to good kid ration in many Christian schools is Higher than Public school. I went to a Christian school that had many kids enrolled who were expelled from Public school, nice)

2. Moralism vs. Grace – I attended three different christian schools in my academic career so although I can not speak for every Christian school I have a sense of what most are like. Every christian school I went to focused more on the law, works and being a good person surprisingly enough very few christian schools really taught what the gospel is all about. I never remember hearing a message in chapel or in class that Jesus + Nothing else = My Redemption. I went to school with lots of "Good kids" many of which were going through the motions to keep their parents off their back once they graduated they were gone. I wrestled with this for many years, the conclusion I have come to is that moralism and teaching our kids to be "good kids" doesn't make a difference leading them to understanding of the Gospel and living it out in front of them does.

3. Parent capitulation – Parents of kids who are have kids in christian school often times feel that their kids are getting all the spiritual guidance they need. Whether this is implicit or explicit it happens not with every child but many parents breath a sigh of relieve as they send their kids to a Christian school and don't engage their kids spiritual journey like they need to. Discipline your kids is not the responsibility of the Christian school and youth pastor it's our responsibility as parents so no matter where you send them you need to be involved in their lives daily. It looks different in Public school, and home school than it does in Christian school but the level of connection needs to be the same no matter what road you take.

4. Fairness – One of the main reasons I wouldn't send my kids to a Christian school being a pastor's kid I felt like unfair expectations were placed on me from teachers and I felt students perceived I received better treatment. The third Christian school I went to this was not an issue. I would never send my kids to a christian school where they knew I was a pastor. I don't think the teachers would treat them as fairly as other kids. Weather this is real or perceived on my part is up for debate. I know what I perceived as a Jr. Higher and I don't want my kids to have to go through that. I don't want special treatment for my kids I just want them treated like everyone else.