This is an online devotional that is two of my favorite things: Simple and Practical. I am using it myself as well as a tool for a Jr. Councilor Discipleship group I am doing. I have been using it for about a week and I love it. I found it on Dave's blog. (BTW Dave In the name of all that is Holy add FMD to your blogroll already. LOL) Check out examen.me for yourself.

Grouptweet is what we are going to be using to communicate with each-other. I chose grouptweet over facebook because the better sms and some kids are not allowed on facebook. I think the combination of protected updates and grouptweet are the best solution for any small group.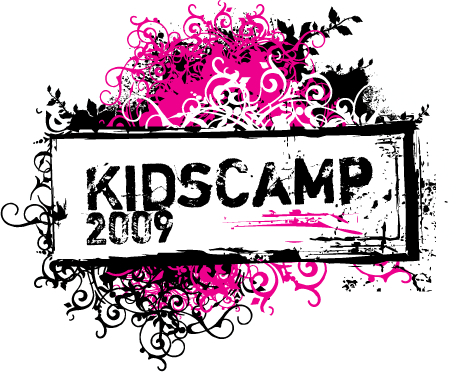 Here is the Logo I created for our kidscamp this year. I am a huge fan of a couple more things. Simple easy design that isn't clipart. I have a growing list of ministry things that drive me nuts. As you all know I hate flannelgraph Jesus I also hate crappy design. In todays day and age I don't think there is any excuse for it. I am not a graphic designer I know the basics of Photoshop and Illustrator. I am a self proclaimed Adobe hack. If I can do it you can to. Take the time to make all the print stuff you do for your ministry amazing. I try and use vector files as much as possible thanks to my good friend Gareth have come to love Vector files, but thats me use whatever woorks for you. I buy vector files off of iStockphoto but only after I check out these free sites.
DryIcons
Vectorportal
Free Vectors.Net
Creativemyk.com (a church graphics network with some really good stuff)
Vectoreezy.com
Vector Magic (A very cool tool that turns any picture into a vector file.)