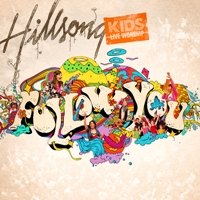 Since I am in the reviewing mode here I though I would do one more. Along with the new Hillsong Big curriculum I also bought the new DVD Follow You. It is great. Hillsong in my opinion has redefined kids worship.
What I love from Follow You:

1. I love how Hillsong pushes it to the next level with each recording. I have everyone and you can see the growth and the upping of the production value big time. Follow You doesn't disappoint.
2. I love how in the last two records they are shooting more at 5th and 6th graders. Younger kids love everything. The older set are tough. (A children's pastor once told me that if you can lead worship for 5th and 6th graders you can lead worship in hell.)
3. Love the mix of styles.
4. Favorite songs are: 1. Follow You 2. Take it all 3. Trust and Obey 4. More
5. Also very Glad they gave a long overdo shout out to our boy and fellow blogger Dave Wakerly in Love Never Fails.
6. Love all the segments between worship sets.
What I didn't like:

1. I understand (because of the integration of Big), but miss having all the backtracks on the DVD as well as the pre-made worship sets. Will just have to wait patiently for the .mpeg's to come out.
2. I am not a huge fan of the music video songs. They tend to be more difficult to pull off in a worship setting. I prefer the pre-made video backgrounds the music video songs don't have these. Maybe make a video backdrop version and do the music video version in the extra's section.
3. One thing I would love as a kids pastor. Have a few .mpeg spots that explain to the kids in a fun cutting edge way what worship is and why we do what we do. What does the bible say about worship and what can we do in response to what the bible says.
There is not really much for me to dislike. I love Hillsong and think they do an amazing job. I was really impressed with the production quality of the shots and editing. Top notch. Also everyone who does camera spots are very talented and have loads of energy. I think that you can be proud of the amazing resource you have created for kids workers and parents alike. Thanks again Hillsong Kids you guys continue to raise the bar.