Tutorial: How to Create a Custom Facebook Fan Page for Your Children's Ministry
It still surprises me when I meet pastors who have no idea how useful Facebook is for ministry and have no desire to check it out. For those of you who recognize the value of having a ministry presence on Facebook, this tutorial is for you!
Many churches and organizations have learned to use Facebook well and have pushed the edges of what Facebook was originally designed to do. Here are two examples from Chase and LifeChurch.tv: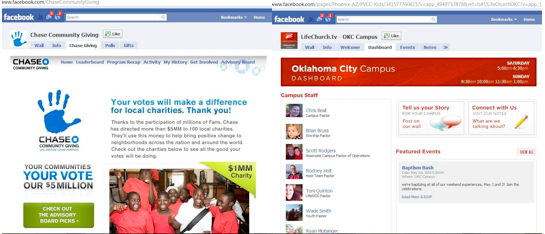 These are great examples because they show that a Facebook fan page doesn't have to look or function like Facebook. In fact, a fan page—or more precisely, tabs on a fan page—can be made to look like whatever you want them to, even your own organization's web site!
I was first inspired to give it a try for our own children's ministry after reading a blog entry from LifeChurch.tv that explained how they were using Facebook fan pages instead of web pages for their church's campuses. I thought about it for a few days and decided to try it myself. Since I'm not a web design expert, the process was probably clunkier than it needed to be, but I'm happy with the results and happy to tell you how I did it.
Here's what our children's ministry's Facebook fan page looks like now. You can see it for yourself at http://www.paradisechurchkids.com. I completed it in one evening with just a couple apps and a little graphic design skill (which I'm assuming you have or can use someone else for).
Ready to work? Here's how I did it…
Here's a review of what we did:
Added the Static FBML app to your organization's Facebook fan page.

Designed graphics and uploaded them to a web host.

Designed a new web page in SeaMonkey.

Copied the HTML code from SeaMonkey and pasted it into Static FBML.
I have to admit that things didn't go perfectly the first time I did this. If you have any questions, feel free to look up my Facebook profile at http://www.paradisechurchkids.com and send me a message with your questions. I'm not an expert, but I'll do my best to help you!