Growing Small Groups Deeper
Chad and Autumn Ward – from Mountain Lake Church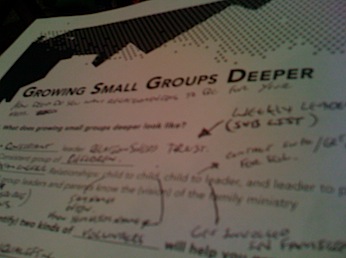 Big Idea – If deep meaningful relationships are important in your ministry than you will do what it takes to create them.
Key Thoughts –
Consistency is the key to life-giving relationships

Empower small group leaders to make a difference in the lives of the kids they lead.

Be a resource to Small Group leaders so they can be a resource to parents.

Create social events that create relational deposits in the lives of your small group leaders
Best Thought of the Day: Your child's best day of the week should be at home not at church.
Questions I need to ask myself –
What systems have I created that facilitate constancy in relationships?

How can I find out what resources our parents need?

Am I passionate bout relationships? Do I model them?

Are my small group leader filling space or touching lives

?
Great video below from Chad and Autumn Ward's church where they partnered with parents to do an event that describes baptism.
httpv://www.youtube.com/watch?v=H0mtss0iBrM