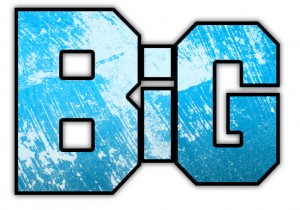 Well we are now two weeks into using Hillsong's BIG Kids curriculum. I have to say that it is very, very good. A few people on twitter have been asking for a deep evaluation of Hillsong's initial foray into curriculum. I have been a huge fan of Hillsong Kids since Jesus Your My Super-hero. When I first saw "Super-hero" I was grateful as a kids pastor I spent hours of time and loads of money trying to find well made relevant kids worship music and I have to say that each CD has gotten better than the last. I my mind they are the standard for Children's worship music.
Now that we have used Hillsong BIG for two weeks let me share my thoughts with you if you are on the fence about using it or not.
What I love about it.

1. Video are well done the production value is amazing
2. The video content is fun enough for the younger kids and relevant enough for the older kids
3. There is a perfect amount of video it compliments without taking over
4. There is more than enough small group stuff for any length of service
5. The Bible story is a basic outline and is very customizable for your group and can very easilysteer the message to fit your churches core values
6. Small group leaders have a "cheat sheet" a small sheet of paper with a summery of each small group activity.
7. Having three campus' all different sizes. I am very confident that it will be a great fit for
any size church
8. The kids love the object lessons with the bible story.
9. Love How the Tell the world DVD tracks the lesson Plan.
What I would like Hillsong to change
1. Make all lesson files available on PDF and word .Doc – very difficult especially with so manySmall group options to let your small group leaders know which ones you are doing.
2. Have something for the kids to take home to connect the lesson to the family.
3. Elevate does this amazing thing where they have a video explanation of each small group element.It is an amazing tool for the visual learners and to maintain consistency between Small groupleaders.
4. I would like more scripting of the host and co-host interaction on stage
Overall Love Hillsong BIG. I think out all of all the curriculum we have used they have the best balance of video and live elements. I really do wish they would do a wholes years worth!
This week was the Week 2 lesson talks about how God loves us to much to leave us in sin. After the bible story we had 16 kids walk across the line of faith. You can't put a price tag on that! Thanks again Dave, Dan, Nathan, Julia and the whole team. You guys are a blessing to us all.