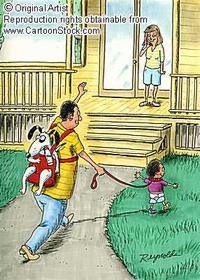 I want to start of the year by posting a few blog posts about parents and the important work they do. I thought it would be fun to start it off today with a humorous tribute to all the hard work that parents do.
You might be a parent……
1. If you consider trips to the grocery store and the bathroom "Me time"
2. If you have ever said "Do not put food in the VCR." (or any food in an electronic device, thank you Donny)
3. If you stop by the store to buy a gallon of milk EVERY DAY.
4. If you go out to eat at a nice restaurant with your wife and the first thing that comes to your mind is "There's a party in my tummy."
5. If you have a complete unique vocabulary dedicated to bathroom events
6. If curse words come to your mind as you unsuccessfully navigate your child's Lego minefield
7. If you have ever said to your kids "Do not play with your poo-p0o."
8. If your idea of sleeping it is sleeping till your kids come to your room start pulling on your eyelids.
9. If your cereal shelf has more colors than a spanish rainbow
10. If you look total strangers in the eye and tell them it is so nice to talk to big people.
What ones would you add?