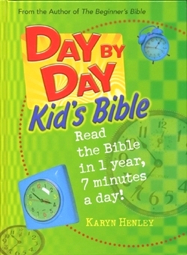 I have been going over all our processes. One of them is how, why, when should we be giving rewards for certain behavior.
I have two pet peeves that will be finally put to rest.
1. We will NOT give kids extra points/bucks whatever for bringing a friend. (how do you think that first time guest feels, I would guess like a 5 foot trout, or 10 point buck.)
2. We will NOT be giving kids points/bucks for brining their Bible. This may be a bit controversial but I believe that by rewarding kids for bringing their bibles but never using them teaches them to "look like" a Christian instead of acting like one.
I am going to send out a weekly bible reading plan. If they read all the verses at home they get extra points/bucks.
I think that unfortunately powerpoint has made bringing your Bible to church a status symbol vs. a functional tool. The other thing that has affected group reading of the bible on the weekend is the rise of multiple translations.
I believe learning to read the Bible for yourself is the most import tool these kids need.
Tell me what you think.