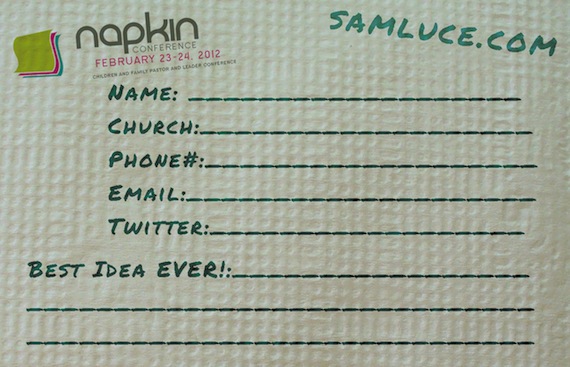 (above is a networking card designed by Donkey Design. I used this card in my session. Don-e and his team are fantastic. They are professionals. If you need great shirts at a good price check out his site. He does )
Stop collaborate and listen!
My story – I started out looking for help with VBS and lock ins and ended up with 4 friends I'll have with me for life. – we were looking to partner
You will never collaborate if you don't see the need – we are selfish aren't we?
[Get to know me – give everyone business cards – say a 2 things about yourself that isn't on that card]
Give more than you take – started my blog to be to others what I wished I had when I started. The result of that simple decision is that God has given me the very people I prayed for years ago. But is started with me saying this is what I have to give.
[Activity – write down the best idea you have and your contact info next to it then pass it to the right]
1 Corinthians 4:15
15 For though you have countless guides in Christ, you do not have many fathers. For I became your father in Christ Jesus through the gospel.
soapbox – nothing frustrates me more in kidmin than when people people take advantage of the community for their own self-interest. We don't need more famous sons we need fathers –
Involve God in the equation – We don't need more good ideas we need God inspired ideas – 
[Pray for me – give everyone business cards – What is your biggest prayer that you need answered right now.]
David was a collaborative leader – from his years in the desert alone and with people who were lonely he learned mutual dependance.
1 David consulted with the commanders of thousands and of hundreds, with every leader.2 And David said to all the assembly of Israel, "If it seems good to you and from the Lord our God, let us send abroad to our brothers who remain in all the lands of Israel, as well as to the priests and Levites in the cities that have pasturelands, that they may be gathered to us.3 Then let us bring again the ark of our God to us, for we did not seek it in the days of Saul."4 All the assembly agreed to do so, for the thing was right in the eyes of all the people.
A God idea is not measured by it's success but by our obedience to what God has asked us to do.
True collaboration should produce something – There is nothing that brings me more joy than to know that when Gina's kids ministry grows I had a part in that. No one needs to know but it helps me have a kingdom mindset
we produced the first ever interdenominational children's ministry curriculum because there was not enough Easter Curriculum out there that elevates Christ.