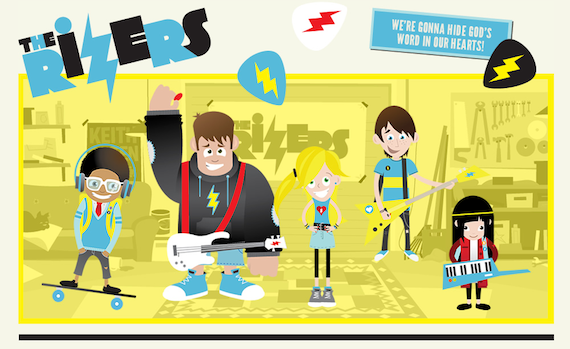 Have you ever gone to see a movie because the first one was so good and you left wondering why you wasted your money. I have. The new Rizers CD was nothing like that in fact I may like the second album better than the first one.
Before the first Rizers CD came out I thought that scripture songs were forced, dated and often times lame. The first Rizers CD "Meet the Rizers" set the bar for scripture songs for kids in my opinion. I was curious to see if they would be able to match the quality of their first album they did that and some.
I love how they take scripture and bring it to life in a way that it gets stuck in your head whether you like it or not. Every time I hear kids worship that is made on this level I think how blessed our kids are to grow up with resources like these. When I was a kid we had a singing Robot named Colby and Bullfrogs and Butterflys.
You kids will love this CD I guarantee it. We do a dance party with our kids most nights before bed. The new Rizers CD has made it's way right after Party in the USA and Dynamite. Track 1 John 14:27 (Do Not Be Afraid!) is our favorite. We also like Track 04 Philippians 4:13 (I Can Do Everything!). If you have kids or are looking for some fun Scripture based worship music for your kids church you need both of their albums.
One last thing. I love the rizers because they believe in the local church and their mission statement is right on! Our mission is simple, we want to instill in kids a love for Jesus Christ and his Word through Scripture memory, praise and worship. We need more resources to help our kids love the bible. So go out support The Rizers download a disk today from Amazon, you will thank me later.
*The Rizers provided me with a free copy of their CD to review.