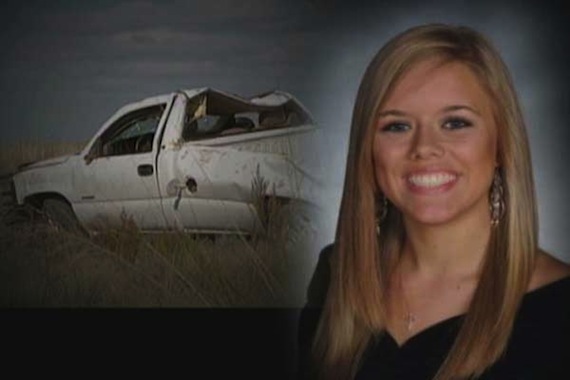 Alex Brown was killed a year and a half ago in a car accident at the young age of 17, her family was on Extreme Home Makeover tonight. I can rarely watch that show without getting emotional. Tonight it was beyond sad, it was gut wrenching. There are few things that get me super emotional but when kids die to early I have a difficult time watching. I would have normally turned it but I saw she was from Lubbock home town of Jonathan Cliff's tree.
Here is a brief outtake from a news report a few months ago.
Lubbock, TX (KCBD) –  Distracted driving. It is what a South Plains family calls an epidemic, one that hits close to home. One year ago, 17-year-old Alex Brown made a decision to text and drive which her parents say cost her her life.
The Browns never realized tens of thousands of people would hear Alex's story. They share it to keep other families from having to go through what they have had to.
"I knew something was wrong and I had to find her," recalls Jeanne Brown.
Alex was late to school. She didn't answer her phone. "I didn't even recognize the truck. I went past it and had to back up." Jeanne jumped out of her car and started looking for Alex. She was laying in the field.
"I dialed 911, but it was like my fingers couldn't push the right buttons. God, please help me I can't push the right numbers," said Jeanne Brown who prayed and watched as paramedics worked frantically to take care of Alex's badly battered body.
But her injuries were too severe. Hours later at the hospital Jeanne and Johnny Mac had to say their goodbyes.
Read the rest of the article here http://www.kcbd.com/global/story.asp?s=13478403
All I could think about while I was watching is that if my kids were driving now I would without a doubt put websafely on their phones. It will be out for the iPhone soon at which time I will do a full review but after seeing that show tonight I wanted to at least tell you about it. Websafely is a full serivce social media monitoring software, but they also have a product called cellsafely here are a few things cellsafely does
No Texting and Driving
Revolutionary technology that stops texting while driving, passengers can ask parents for permission!
No Texting Zones
Block text messaging while in certain pre-defined zones, such as at school.
Location History
See an instant history of up to several days of where your child has been.
There are many more features. It is worth your time to check it out. Websafely.com