One of my pet peves in kids ministry is that we design below the intended age we are trying to reach. I am not sure why we do this. Personally I think it happens because we wrongly target the lowest age kids in the demographic we are trying to reach, or we are just out of touch from the main stream of design because are to busy ripping off real logos to companies to make Jesus junk shirts like taking the coke logo and changing it to say Jesus Christ "He's the real deal". In the church world we rip stuff off instead of using design ideas from what is hot now to help guide the direction of what we want to create. (where do I go for inspiration for kidmin design pieces? nick, Disney, Disney XD, ) Drives me nuts. Ok I am stepping off my soap box now.
I thought I would share a touch card I made yesterday and share some of my rules for designing stuff for kids ministry.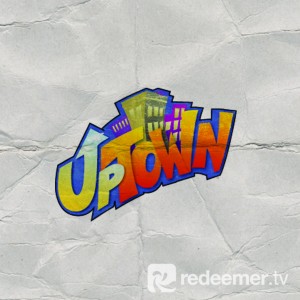 (This is the front)
(This is the back)
Here are a few of my rules for kidmin design:
1. Know the purpose of the piece
2. Content is king – what you say is more important than how it looks
3. Aim higher age than your intended audiance

– For Preteen think Highschool
– Elementary think Jr High
– Pre-school think elementary
4. You need to have white space
I designed this piece for parents to have something to give to their friends. We are going to make Uptown stickers and buttons, because I want kids to take our logo with them into school. We can't be in the school but we can design some cool stuff that every kids would want to bring in the school with them. What are some other things we should print so kids can take our stuff into the schools with them?