Capturing The Hearts of New Parents
Kendra Flemming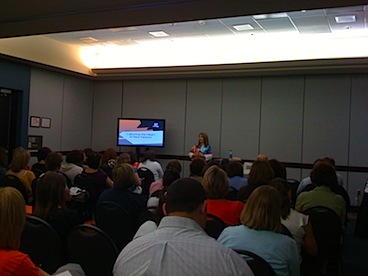 Big Idea – When parents walk in we want them to sense you had them in mind with everything you do.
Key Thoughts –
Creating the environments
Parents are rarely in your class – Impressions are made by your physical space. Needs to be neat and clean.
If you make a negative impression in preschool they will not leave their kids with you.
Finding the right People
Focus on the kids – You have a chance today to make an impression on each child as to who God is.
Significant events in their lives –
New parents have a lack of confidence about what they are about to face.
Now is the time to capture these parents because they want do parenting right.
Preschool years is the time to help parents because kids are forming habits.
Questions I need to ask myself –
– Am I reaching parents when and how they want to be reached?
– Are the volunteers that work with my preschoolers passionate or are they filling space?
– Do I need to take some things from my Preschool rooms or add them to my preschool rooms to make them more kid focused.
– What are the key events I can tap into and make special in the life of every family.
– What can I do to creatively equip the families in my church?