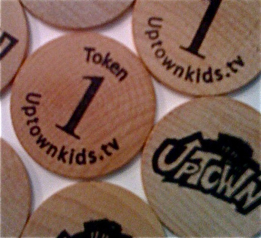 (These are the tokens for our Uptown store, a few people asked what they look like.)
I thought it would be helpful to get other perspectives on the topic of rewards and the roll they play in children's ministry.
The first take is from one of my good blogging friends from Texas. His name is Kenny Conley, he is the Children's pastor of a great church called Gateway Community Church. He has a fantastic blog with great insight from a guy who has been doing Children's ministry for quite a while.
Here is what he had to say.
I just stepped into a new role at a new church and officially resigned the Bible Bucks system here. This was the third church I've done this. Why? Lots of reasons. Most of them probably stem from me being an idealist.

* I've never seen a kid grow closer to God because they brought their Bible every week or recited a
verse from last week (which they promptly forget by the next week). I've seen grow closer to God in a
ministry that had this system, but I'm not convinced that the reward system had much to do with it.
* It's so freaking expensive. I've seen churches spend more than 4 to 5 thousand dollars a year (mostly
on the tons of crappy trinkets that get lost within a week). What would it look like if I had that
extra 4-5K to spend on a big blow-out party every 4-6 months for kids and their families… or update
some other areas of ministry that directly affect the kids experience in a positive way.
* Too often volunteers will use the Bucks to bribe kids to participate, be excited or be quite.
* Shouldn't our programming be done in such a way that kids just have fun and enjoy themselves?
Great points Kenny. Thanks for contributing!
Tomorrow I will have some thoughts from another one of my blogging comrades with whom I share a deep affinity for the decade of the 80's.