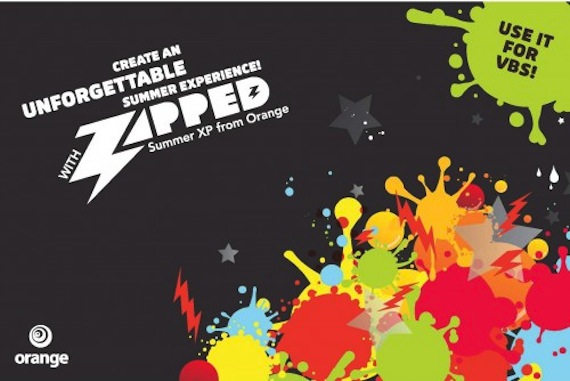 The people at Orange sent us a copy of Zapped to review. What a great product. I loved the packaging and the content is amazing. If you are thinking of doing something different curriculum wise or if your like us and like to mix it up for the summer Zapped is a great option. Here is what our kids pastor Josh Lange had to say about it.
The Zapped Curriculum Review
Just finished reviewing the Zapped Curriculum developed by the reThink group which produces 252Basics, My First Look, and XP3.  Zapped can be used as a VBS curriculum or as a Summer series.  We've decided to use this as a summer series in a large group environment with the hopes of giving our regular small group leaders July and August off.  This should be possible because of the flexibility that Zapped provides.
Zapped follows the life of Peter with the goal of learning what it means to be Zapped by God's power.  Each week you are provided with music, videos, small groups, experiments (object lessons), take home elements that help drive home that weeks Bottom Line and the overall topic.
The drama video's are great.  You get attached to the characters.  The main idea is driven home in a modern context.  Actually, as my wife Rachel and I were watching it she actually said it reminded her of watching the BBC.  So that made it bit more engaging for her.  The storytellers do a great job of communicating each story of Peter's life and driving us to a place of trusting God.  I love the overall emphasis of staying connected to God to not only walk through this life, but to become who He created us to be.  On the downside I would say that in the bulk of the stories there is not much in the way background music, but we plan on compensating with ProPresenter's ability to play audio and video at the same time.  A capability which we have discovered too many times in unplanned situations.
One other concern I have is having enough material each week to cover service times that will range between an hour and fifteen minutes or more.  I am thinking about this however in the context that I would like to give small group leaders time off, multiple services (of different sizes), and our multi-campus structure.  I will have to be a little more creative where I have usually supplemented different service and campus capabilities/limitations with Feature Presentation Intro's/Story/Outro's/Movie and the Get Reel materials.  This however is not a deal breaker and the scenarios above cause my mind to move in this direction.
Like I said earlier one of the thing I love is the constant emphasis on trusting God and staying connected to him. It will stay memorable through the different experiments.  I am really looking forward to using this in July and August.  If you are looking to do a VBS or do something different this Summer this could be a great option.
Here's a list of features that really stand out to me:
1. Video Elements (Opening/Closing Drama, Bible Story, Promo Video, Countdown Video, Zapped and Word Title Package, Live Lyric videos for worship)
2. All the planning elements you could think of whether you are running a VBS or Summer Series
3. Editable Text Files for Scripts (if you choose to not use video elements)
4. Organizational materials and suggestions for planning, recruitment of volunteers, and such)
5. All different types of graphics and such for T-shirts, ProPresenter, and printed materials
(Disclaimer a copy of Zapped was provided to us by Orange for review purposes.)